And finally, to bring my thoughts about blogging to some kind of temporary conclusion (and then I promise to shut up about it for a while), I will present you with a cartoon that sums up my feelings on the matter: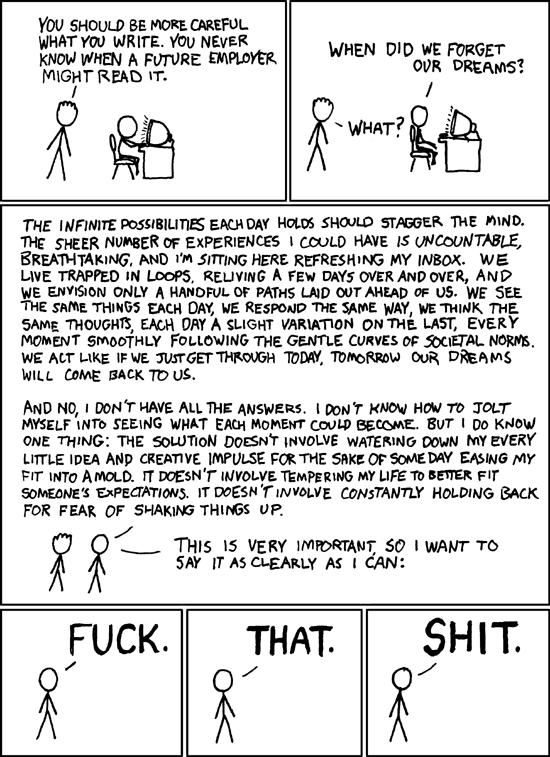 The fear that something you write might somehow, somewhere come back to haunt you, so it's better to leave a thought unexpressed than run the risk of someone's displeasure, is a craven and unworthy thought. Especially for those who are pleased to think of themselves as free-thinking intellectuals.
This almost pathological aversion to risk is one reason most academic writing so unreadably dull. So when I hear my fellow academics saying "yes, this so-called "blogging" is all well and good, but you stand to make a fool of yourself," I want to say, you say that like it's a bad thing. A bit of danger — or at least the sense that something is at stake and the outcome is unknown — is the life-blood of writing.
One thing that younger scholars hear all the time is that they shouldn't use online media to share their thoughts lest someone take offense. And sure, if you have any kind of online presence you will almost certainly show your ass sooner or later. I know I have. Furthermore, there are certain varieties of ass-showing that can do you serious and permanent professional harm. But we're all adults here, and adults get to make adult-type choices. We infantilize ourselves when we act as if our hands are tied, we can't risk it, we cannot face our choice as such, the choice cannot be made . . . This is what Sartre meant by "bad faith." It is very true that, as Black Thought said, "keepin' it real will kill you if you end up letting it." But so will not keepin' it real. Well, we're all going to die sometime. What do you want to show for your brief time on earth?
What a way to live your life, cowering in fear from every hypothetical danger. Life is too damn short. "He managed risk effectively" is not something people want on their tombstone.
Now there's a headstone I can get behind. The woman for whom it was carved is apparently a bit of a mystery. No-one knows why she wanted it to look this way. Perhaps she had it carved in a spirit of bitter self-recrimination. But I'd like to imagine it was otherwise: that she looked at a life of ideas and feelings set to paper, to no great glory or posterity, and thought, you know, I said what I had to say, and it was enough. There are things worse than failure.